New Faces of Fiberglass Campers in 2016
If you've seen my page on how you can
find your own fiberglass camper
, then you know that there are many options when it comes to the molded fiberglass campers (not to be confused with fiberglass panels over a wood frame). There are many older brands that aren't in production anymore (U-Haul, Boler, Burro, etc). If you're lucky, you can find a good used one. They never seem to lose their charm no matter how old they get. And that's the great thing about fiberglass campers, they tend to last a long time unlike "stickies" that need to be rebuilt after many years. There are many companies that still make new fiberglass campers today that I've listed on that page. Some, like Scamp, have been around a long time. Others, like Lil Snoozy, are newer.
As one look at the Lil Snoozy will prove, newer ideas sometimes have some neat innovation in design. That's why those of us in the molded fiberglass community love to hear of new companies popping up and creating new models. As each new entrepreneur works to plan a design that is beautiful and useful, they bring various features to the market that have us on our toes to see what's coming next.
Since I originally published the above mentioned page, there's been some new companies and designs hitting the market. So I thought I'd highlight a few here for you in case something piques your interest.
Happier Camper's HC-1
. The Happier Camper started out as a company that renovated and rented old molded fiberglass campers in California. After years of doing this the owners decided to try their hand at building their own. The camper has a modular design to the inside to allow for various configurations. The rear hatch is a unique option not found on any other molded fiberglass camper. The retro styling and color combinations provide for a beautiful design. Check our their website for information and to see pictures.
DubBox USA
. DubBox is also focused on a retro styling. Taking its design from old Volkswagen camper vans, it's modeled completely out of fiberglass. They currently provide 2 camper models and 2 event/food trailer models.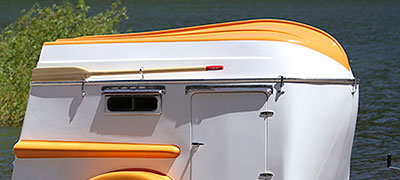 American Dream
. The American Dream trailer takes it's unique design from a bit further back in history. Reminiscent of the 1950's trailerboats or 1960's Kompacs, the American Dream provides you with a camper and a boat. It's a beautiful camper and a neat concept. They're also much smaller than other fiberglass campers with a dry weight of 650lbs. This makes them ideal for smaller tow vehicles.
Nest Caravans
. If the retro look of the previous trailers doesn't do it for you, you might be interested in the Nest Caravan. With a bit more futuristic styling the Nest is also a beautifully designed option. It even has a "control center" inside. Visit their site to check out the details. UPDATE: Airstream has purchased the startup company behind the Nest and will be producing and selling it.
Please visit the above companies websites for more information on their models available and specs. If you know of any other up and coming manufacturers, leave a note in the comments below. As I discover more I'll make additional posts to highlight those options. One thing is for sure, with all the choices out there, you can find the perfect one for you and your family!